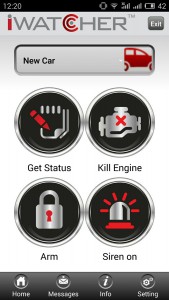 I-Watcher™ App Mobile Application for Spetrotec's i-Watcher™ Cellular Alarm Solu-tion includes iOS & Android Mobile Applications and Backend services.
The app let alarm user to get a control over the i-Watcher unit by mean of : real time vehicle location on On-Line Map , getting alerts on over speeding, Tilt and Tow events, low battery and battery cut off status, prevent ignition back in case of theft attempt, Arms and Disarms the system, Ignition status (on/off) and vehicle status (driving, parking).
Unit to Server communication is set by GPRS or SMS communication means.
Technologies: